The Better Way to Manage Error in Healthcare Symposium – a resounding success!

---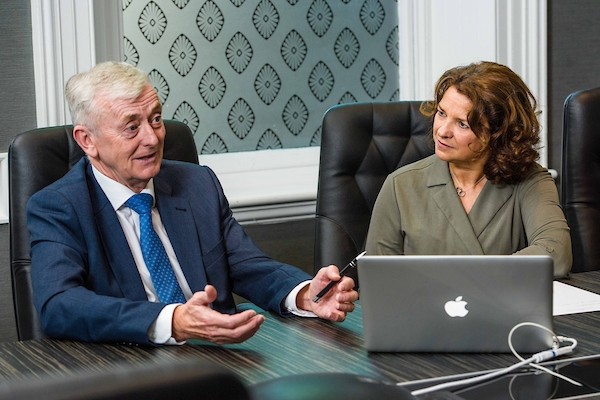 Earlier this year I had the privilege to attend a masterclass by the mediation master himself, William Ury, a world leader in negotiation and mediation and the author of the leading texts in this area. William challenged his audience to approach the changes that the world needs with 'humble audacity' a phrase that has lodged itself firmly in my mind and that sums up our approach to the Symposium we ran last month at Riddel Hall in Belfast.
Some time ago I wrote a blog https://thebetterwayto.com/blog/89/mediation-a-safe-way-to-apologise-for-medical-errors and that sparked the interest of a number of humbly audacious individuals who connected - a surgeon (Mark Taylor), a pilot and former surgeon (Niall Downey), two GP's (Colin Fitzpatrick and Rose McCullagh), a medical student (Jonny Elliott) and me - a lawyer/ mediator, and the result was the symposium.
The goal for the symposium was to start a conversation about how we can deal with error in healthcare differently on the basis that the current fault-based approach is not working and causes more problems than it solves.
We were fortunate to find that some of the leading names in this area were also keen to be involved – the Lord Chief Justice, Sir Declan Morgan; the NI Permanent Secretary for Health, Richard Pengelly; the Chair of the GMC, Sir Terence Stephenson, who all spoke of the need to change the current approach and were followed by an excellent line up of speakers and panellists commending a different approach. Particularly striking was the voice of Bernie O'Reilly, a representative from Patients for Patient Safety, who told her own story of losing her husband in a medical accident and the difficulties she had to face.
The feedback from the symposium has been overwhelmingly positive, with 94% rating it excellent or good. Here are some of the things attendees said:
"Very interesting and provocative" "Much food for thought"
"The speakers were accomplished, well prepared and engaging"
"Really frank and open discussion. Very informative and relevant speakers/contributors"
"Vital discussion that needed to happen"
"Definitely a good way to get a wider debate and reflection"
With humble audacity, we will continue to move this conversation on and turn it into action. If you have are interested in contributing to this work please contact me at info@tbwto.com
You can also watch videos of the speakers and comments from attendees here:
Dorcas Crawford Interview: https://youtu.be/tfcd9HzbmDw
Jo MacLennan Interview: https://youtu.be/Pxzo7Pr-BRA
Dorcas Crawford Speech: https://youtu.be/yRgIsjtp8G8
Sir Declan Morgan Speech: https://youtu.be/r9ozB_W68eM
Richard Pengelly Speech: https://youtu.be/8GWhqxWO1SU
Professor Sir Terence Stephenson Speech: https://youtu.be/o7AiBUoadQ4
Andrew Kennedy Interview: https://youtu.be/oK4SrJNb9K4